Drink containers water bottle is essential for any backpacker, but the best ones also come with other handy features. Some have a water purifier, while others are collapsible or easily fit in your side pocket.
We've put together a list of the best travel drink containers, from insulated options that keep your drinks cold or hot for hours to lightweight filters that can help you make any water safe for drinking.
Travel Drink Containers CamelBak MultiBev
This double-insulated bottle and mug combo is the ultimate beverage multi-tasker for on-the-go sustainability and versatility. It features a 22-ounce bottle with a detachable cup for a second drink. The insulated cup keeps drinks warm or cold for hours, and it easily unscrews from the main portion of the bottle, so you can use it on its own.
The insulated cup is a little heavier than some other travel drink containers bottles we've tested, but it's worth the extra weight for its added functionality. Plus, CamelBak's smart design makes this a surprisingly lightweight bottle despite its complexity.
A powder coat finish and non-slip silicone base provide a durable exterior, while sweat-proof insulation prevents condensation from forming on the outside of the bottle or inside of the mug. The leak-proof Pak Cap tucks the Roll and Fold Lid neatly away until you need it, and it also stores other small items like a tea bag or snack.
Versatile Travel Drink Containers
They make both the bottle and the cup out of stainless steel. So they're suitable for use with hot or cold liquids and won't absorb odors or flavors. They're also dishwasher-safe, so they're easy to clean after each use.
The double-walled, vacuum insulated stainless steel construction is ideal for keeping drinks cool or warm for hours. Its sturdy construction also resists wear and tear from everyday use, and it's designed to last a long time.
The main portion of the bottle has a comfortable carrying handle and can clip on to a backpack or other gear. It's a good size for a day hike, and it fits most cup holders on backpack straps and bike handles. The insulated cup has a comfortable grip and can fit most standard mugs on the market. It's compatible with other CamelBak accessory caps, including the tea infuser (sold separately). The entire bottle is BPA, BPS, and BPF free.
O2COOL Double Wall Mist 'N Sip
This double-insulated bottle provides both drinking and misting options to help keep you cool. Hydrated on your next outdoor adventure. The flexible bottle can create a fine mist or an ample flow of water. The built-in carry loop offers comfortable transportation. Its double-wall insulation helps keep your beverage cold for a long time, too.
The Arctic Squeeze Mist 'N Sip Bottle offers a unique 2-in-1 function that is perfect for bicycling, sports and other outdoor activities. Its high-flow rate of water and a fine mist helps you stay refreshed, while its double-wall construction eliminates sweating and keeps drinks cold 50% longer than single-wall bottles do.
A large opening makes it easy to add ice. The bottle's easy-to-squeeze trigger delivers a refreshing mist with a simple press. The mouthpiece cover and lock system on the trigger prevent accidental spraying so you can enjoy your water with confidence, no matter where you go. The water bottle is also outfitted with a carrying loop and a no-leak, pull-top spout for convenience.
Made utilizing low-density polyethylene (LDPE) plastic, this flexible and lightweight water bottle is BPA, BPSD, and phthalate free for safety. It's designed with a convenient carry handle, so it's great for hiking, biking, and team sporting events. This bottle is also available in a wide range of colors to suit your style.
Travel Drink Containers Owala FreeSip
The Owala FreeSip is a good water bottle for athletes. It offers superior insulation to keep your beverage cold and fresh. It also benefits from super-advanced spout technology. So you can sip through the hidden straw for a quick drink when you just need a refresher or tilt the bottle back to take a gulp when you're in need of hydration during your workout. Using this bottle will save you money over buying bottles of single-use water. It's sturdy enough to last for years.
Another benefit of the Owala FreeSip is that it is BPA-free. So you don't have to worry about harmful chemicals leeching into your drink containers. It is also made of clear Tritan material, so you can see what's inside your water bottle and make sure it is fully hydrated. This bottle is available in different sizes, so you can pick one up that suits your workout needs.
The Owala FreeSip is an excellent option for pickleball players and outdoor enthusiasts who want to stay hydrated during games and activities. Its triple-insulated body design keeps your beverage ice cold for hours and its patented spout with dual drink containers options makes it easy to sip or chug on the go. In addition to that, its wide-mouth opening lets you add ice cubes and other ingredients for customized drinks. It's also completely leak proof so you won't have to worry about spilling messes on the gym floor. The convenient handle raises up over the flip top lid and clicks down over closed lids to prevent accidental opening, which is a great feature for busy people on-the-go. It also fits in most cup holders for maximum convenience.
HydraPak Recon
A durable and sustainable bottle for your day-to-day hydration needs. This 25 fl oz bottle from HydraPak is made with 50% recycled content and is BPA, BPS and BPF free. The innovative twist top offers a leak proof seal for storage and transport. Opens up to allow you to drink containers comfortably. The bottle is clear so you can keep track of your liquid intake. See how much more water you have left to consume on the trail or at the gym.
HydraPak has long been a go-to original equipment manufacturer for hydration reservoirs. Soft flasks used by outdoor and sports enthusiasts around the world. The company now offers a wide range of hydration bottles to meet your every need and hydration goal. The RECON Bottle is a great choice for the hiker who wants to reduce their environmental footprint.
The RECON Bottle is HydraPak's first sustainable outdoor bottle series and features 50% recycled content in both the cap and bottle. It is topped with the brand's new patented twist cap that provides an experience like drinking out of glass. Was born from the belief that great gear for the trail can. Should have lower impact on the environment for a more enlightened way to hydrate.
The RECON Bottle is constructed of Eastman Tritan Renew copolyester material that is made with 50% recycled content and is the equivalent of 9x single-use bottles. It is impact, stain, and odor resistant, 100% BPA, BPS, and BPF free with no residual taste, and easy to clean. The practical slender shape of the bottle is designed to fit in backpack pockets, and the comfortable-to-carry flexible TPU bail handle enhances portability.
Klean Kanteen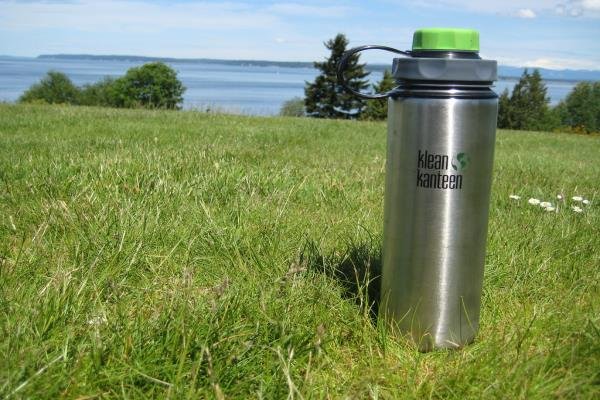 The Klean Kanteen is a BPA-free stainless steel bottle that has double wall vacuum insulation to keep hot beverages hot and cold beverages cold. The company makes a wide variety of insulated bottles that can be paired with different lids to meet specific needs. For example, the Insulated TK Wide is perfect for coffee on big hiking days or even just a leisurely stroll.
The mouth of the bottle is wider than other models which allows you to easily add ice cubes or mix in your ingredients. There is also a secure leak-proof design that can withstand the roughest of use. You can fit the cap with a sports cap or a child sippy cap for on-the-go drinking. It can also fit into most cup holders for easy transport on the go.
In terms of durability, it's hard to beat the Klean Kanteen. However, the bottle can be a little heavy due to its construction. If you're not going to be using it on demanding adventures. You might be better off with a lighter model such as the Yeti Rambler.
Klean Kanteen commits to reducing its ecological footprint while giving back. The company has been a member of 1% for the Planet since 2008 and in 2012 became a certified B Corporation. They work with a number of nonprofit organizations to help educate the public on environmental issues. Including water safety and climate change.
They also work with the Climate Neutral Project to offset all of their operational and value chain emissions. They do this by investing in high-quality projects that accelerate climate progress and provide carbon credits. This is a great way to ensure that the company is making a positive impact on the environment without having to make major changes to its business practices.