Travel drink bottle keeps you hydrated on the go without having to buy expensive bottled water. We looked for bottles that are easy to carry and clean, leak-free, and suitable for multiple types of trips. We also consider the cap or lid design and if it makes drinking easier.
Water Bottles for Traveling
A water bottle is a must-have item for any traveler, and there are several different options on the market. These bottles range from stainless steel and glass bottles to plastic and collapsible options, with a wide array of features that cater to specific needs and preferences. Some options include insulation technology to maintain beverage temperatures, wide mouth openings for easy refilling and cleaning, secure lids to prevent leaks, and ergonomic shapes for comfortable handling. Many of these bottles are BPA-free and come in a variety of colors and designs.
The perfect travel drink bottle for you will depend on your specific travel plans and budget. The most important factor to consider is capacity, with a size that balances portability and sufficient capacity to keep you hydrated during your trip. Most travelers choose to carry a bottle with a capacity of between 16 and 32 ounces.
Stainless steel bottles are often preferred by travelers. As they offer durability and insulation properties. Bottles like the Hydro Flask or Klean Kanteen Classic are vacuum-insulated to maintain beverage temperatures. While options like the Nalgene Wide Mouth bottle feature a large opening that's easier to fill and clean than smaller bottles. If you're concerned about odor or taste retention, a double-walled stainless steel option like the Larq bottle offers an effective solution.
Travel-Friendly Water Bottles
A collapsible travel water bottle is also a great choice for travelers, as it can be easily stored in your backpack or luggage without taking up a lot of space. This option is also easy to clean and typically features a screw-top lid, which prevents spills. Some options also include a built-in straw to make it easier to sip, while others are designed with a narrower mouthpiece that protects the water from contact with dirt and bacteria.
For those traveling to places with questionable water quality, a bottle with a built-in filter is a useful option. This type of bottle removes odors, flavors, and microplastics, as well as bacteria, to ensure you always have access to safe and clean drinking water. For example, the LARQ Water Bottle uses cutting-edge UV-C LED technology to purify and sanitize water at the push of a button, making it ideal for use in remote locations where water quality is unknown.
If you're hiking long distances, you need to hydrate regularly to avoid dehydration. Using a reusable water bottle while you're traveling can help reduce the amount of disposable plastic you use on the trail and in your daily life. Bottles made for hiking are typically lightweight but sturdy, and built to withstand the drops and rough use associated with outdoor adventures. They are often insulated to keep your water cold, but non-insulated options like the Nalgene Wide Mouth and HydraPak Flux are just as good. Both roll down and stow easily, so you can carry them in your pack without sacrificing valuable space in your bag.
If you want a more convenient option, you can also look for bottles with straw systems that make it easier to drink on the go. These aren't as durable or easy to clean, but they may be the best choice for a hiker who plans on sharing water with companions. If you're concerned about BPA, look for bottles with clearly labeled "BPA free" on the front or a tag inside the lid that lists the recycling codes for the plastic used (codes 3 and 7 are commonly BPA-free).
Hiking Companion: Travel Drink Bottle
Another great option is a filtration bottle like the LifeStraw Go, which can filter almost any kind of water you put in it. These water bottles work by filtering a small reservoir of water and then pouring that water into your drinking bottle. They can eliminate bacteria, viruses, protozoan cysts (such as hepatitis A and norovirus), heavy metals, chemicals, pesticides, and more. These can be a bit more expensive than regular bottles, but they're also the most reliable for travel and hiking.
The GRAYL Ultrapress is a very similar bottle with a smaller capacity and a more compact design that makes it easier to carry in your backpack pocket or car cup holder. It can filter 16.9 ounces of water in about 10 seconds and removes 99.9% of viruses, bacteria, and protozoan cysts (including Hepatitis A, Norovirus, E coli, Dysentery, Cholera, Salmonella, and more). It's also super lightweight and packs down small so it fits nicely into your bag.
Travel Drink Bottle for Running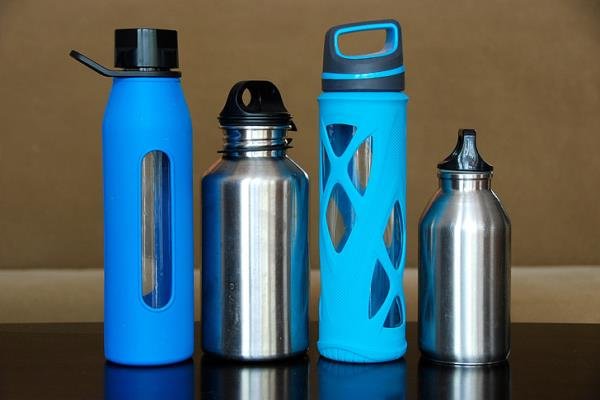 Whether you're a frequent traveler or just enjoy running outdoors, having an easy way to keep hydrated on your trips is a plus. The best water bottle for running provides a comfortable grip that isn't too tight or heavy, and can be quickly squeezed to take a drink. Most running bottles also offer plenty of storage space for fuel, keys and more.
There are a few different kinds of water bottles that make the cut as a top pick for runners. You can find handheld bottles that have an integrated hand strap. You can opt for a collapsible soft flask that stows down into a compact disc when not in use. A carabiner attaches to these, so you can clip them to a belt or pack for hands-free hydration. A few can even withstand freezing, which is perfect for summer trail runs.
Running Essential: Travel

Drink Bottle
The Nathan SpeedDraw Plus Insulated is an excellent example of a lightweight, comfortable and well-designed handheld water bottle for runners. The BPA-free soft flask is easily shaped to fit your hand, while an adjustable strap offers a secure, chafe-free hold. The bottle is insulated, which helps keep drinks cold for longer. Includes small stash pockets for extra fuel and keys.
A simpler option is this simple plastic handheld running bottle from Higher State. Which stores up to 580ml of liquid and fits comfortably in your hand with a central cut-out. The lid is leak proof and has a cover to prevent accidental spills. However, it can be tiring to hold this kind of bottle all the time. The water sloshes around with every step.
Another great option for runners is this simple hip flask from Ultimate Performance. Which has a minimalist strap that clings to your hand so you barely notice it's there. It's not ideal for long runs, as the bottle only holds 250ml of water at a time. You will need to stop and drink frequently — or refill. But it's a nice, budget-friendly choice for those who like to run without a pack or waist belt.
Water Bottles for Camping
A filtered water bottle for camping is a must-have for any outdoors adventure. These bottles include built-in filters that remove contaminants and make drinking clean water safer. Some are also capable of keeping drinks cold for longer than other types of water bottles. There are several different types of filtered water bottles for camping available, each with its own unique features. For example, the LifeSaver Bottle is popular among thru-hikers for. It's dual filter system that purifies water and eliminates bad taste and odors from it as well. However, this bottle comes at a premium in terms of price and weight.
Another option is the Hydro Flask. It is a popular bottle with a nifty flip-open, click-close lid that creates a leak-proof seal. It also has a narrow, slender shape that fits securely into cup holders and side pockets of backpacks. During our durability tests, it sustained no damage from drops. It effectively kept water cold for hours after being left in the sun. Withstanding bumps along the way. Despite its excellent performance, the Hydro Flask has a few drawbacks. It is a bit heavier than other bottles. It's spout can be a little difficult to operate with one hand. Especially while holding the bottle with the other.
Travel Drink Water Bottles
If you prefer a glass water bottle, consider the Hydro Flask's cousin, the Purifyou Glass Water Bottle. This bottle is similar in style and performance to the Hydro Flask. Comes in a range of colors and patterns. It is also BPA-free and made with recycled materials. Which makes it a good choice for people who are concerned about chemicals in their plastic water bottles.
Many outdoor and travel lovers also like to use collapsible, flexible reusable water bottles. These bottles can roll into a small pouch and are easier to pack than a full-sized, rigid metal water bottle. While flexible reusable bottles offer many advantages. They do not hold liquids very long and are generally more fragile than rigid water bottles. If you're looking for a portable and durable water bottle. A rigid metal water bottle might be the better option for your next outdoor trip.